Ada yang pernah nonton film "She's All That"?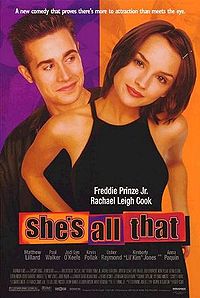 Aku pikir ini salah satu film kesukaan aku (=Favorit). Isi ceritanya sederhana. Seorang pria terkenal, bertaruh dengan teman2nya… bahwa dia dapat memperoleh siapapun di sekolah tersebut. Alhasil dipilih oleh teman-temannya perempuan culun / kacamata. Lalu di tengah-tengah perempuan culun tersebut berubah menjadi perempuan cantik.
Dan ternyata akhirnya si jagoan cowo ini jatuh cinta beneran, tapi ketahuan bahwa dia = janjian dengan teman-temannya utk memperoleh perempuan ini.
Why I like this movie?
Yang mainnya (perempuannya = Rachel Leigh Cook. Menurutku cantik sekali di film tersebut pada umur tersebut –> sekarang malah agak parah euy). One of my favorite actress. So innocent. Dia juga ok ketika main "The Eighteenth Angel".
Lagunya sepertinya pas sekali = "kiss me – Sixpense None the Richer". Lagu ini ok sekali, mungkin karena dimainkan di film ini. Adegan Favorite = pas turun tangga…
Atau mungkin aku seneng cerita sederhana… yang ngga perlu pake otak untuk mencari tahu why-who-how-what-when nya.
Kebaikan menang… (loh emang ada pertarungan kejahatan vs kebaikan?) <– ini joke.
Dan setelah nonton film ini, biasanya kangen ama istri. 😀  –> beda sih istriku ngga culun gini, dan ngga ada cerita yang miripnya.
Ngomong-ngomong… lagi download nih video clip-nya. tadi udah MP3 nya. Mau ditaruh di Iphone ah..
Ada 2 video clip lagi yang mau dicari:
Chang Ching Pao – Tio Sam Hong-nya : Tai Chi Prodigy – Video clip awal dan akhir film serial-nya.
Pengen potong film "Yip-Man", pas 1 lawan 10 orang, dan pas ditanya nama dia siapa.