Beberapa waktu yang lalu salah seorang teman ada cerita tentang Raspberry PI. Setelah lihat websitenya (raspberrypi.org), jadi tertarik untuk mencobanya. Tujuan awalnya ingin anak lelaki saya yang besar, supaya senang belajar yang baru. Sekarang senengnya game-game model team fortress, League of Legend, Minecraft. Saking hobinya, susah untuk belajar.
Setelah baca dari beberapa tulisan, penggunaan Raspberry Pi bisa membuat anak senang belajar.
Jadi deh akhirnya beli.
Raspberry nya sendiri ternyata perlu beberapa yang dibeli, power supply, SD Card, keyboard usb, mouse usb, HDMI to VGA adapter (aku rencana pakai monitor lama), dan utk baca ke komputer pakai SD Card Reader, lalu tambahan cabang USB, belum lagi utk wifi (belum beli). Ujung-ujungnya jadi lumayan banyak juga. 😀
Tapi setelah dijalankan, asik juga. Untuk standardnya Raspbian sudah ada Python (IDLE, dan IDLE3), scratch, wolfram, sound pi, yang semuanya bisa digunakan untuk anak belajar. Jadinya ayahnya dulu nih yang belajar main-main dulu. Asik juga.
Tadi anaknya coba pakai jadi XBMC, lumayan buat testing nonton2. Bisa connect juga ke layar ipad via airplay.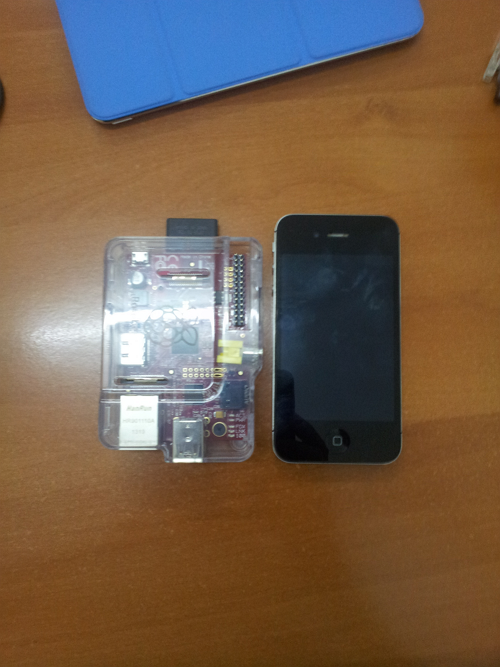 Gambar: Raspberry Pi yang ukurannya kecil.
Laporan selesai….