Kita harus lebih berhati-hati kepada phishing. Email client kita kadang-kadang masih meloloskan beberapa email phishing. Phishing yang belakangan saya terima adalah dari paypal, amazon, dan tempat2 lain yang sering kita gunakan transaksi.
Phishing, mencari cara mendapatkan informasi kita dengan cara pura-pura mengakui dari orang lain yang mana meminta informasi ke kita.
Menurut wikipedia:
Phishing is the act of attempting to acquire information such as usernames, passwords, and credit card details (and sometimes, indirectly, money) by masquerading as a trustworthy entity in an electronic communication.
Nah, yang sering membuat saya hampir klik (pernah juga ke klik) adalah jika salah satu website di mana kita sering pakai untuk transaksi (misalnya paypal, amazon, ebay,…), tiba-tiba mengirimkan email ke kita bahwa kita telah dipotong suatu nilai. Misalnya membeli barang yang mahal. Karena emosi, takut, kaget, kita bisa tiba-tiba klik link tersebut. Berhasilah mereka.
Padahal jika kita tetap tenang, kursor mouse kita dekatkan ke email tersebut.. Akan kelihatan alamatnya berbeda.
Contoh penipuan amazon: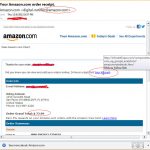 Contoh email penipuan BCA: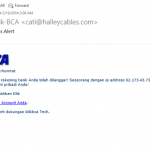 Semoga tulisan ini membantu…