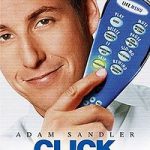 Film Click (starring Adam Sandler, Kate Beckinsale)… menurutku termasuk film terbaik, yang bagus kalau dikoleksi. Sangat bagus dan menyentuh. Secara garis besar, film ini menunjukkan bahwa akhirnya "family" harus diutamakan = "family first". This is almost the best movie, which everytime I watch this movie remind me again and again about what is the most important in my life.
Anehnya… 8x nonton, 8x diingetin.
Kita harus menikmati setiap waktu dengan orang tua kita. sekonyol apapun, sebuang waktu apapun yang kita rasakan mereka. Kita harus sering meluangkan waktu dengan mereka, sering mendengarkan mereka.
Istri dan anak-anak. Di kala kita tidak memberikan waktu ke mereka. Tiba-tiba mereka telah menjadi besar. Jadi apa merek besar nanti, sedikit atau banyak bergantung kepada kita.
Jangan asal janji-janji surga dengan mereka. Jangan menomor duakan mereka.
Bisnis dapat ditunda. 🙂
Kadang2 kita harus segera mengucapkan "I love u". Walaupun memang kita mencintai mereka, tapi kalau tidak diucapkan mungkin kita akan menyesal.
So… one of the best movie. Untuk bapak2… kita harus beli dan nonton lagi nonton lagi.